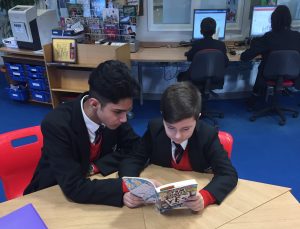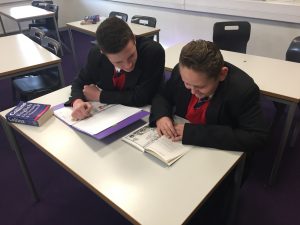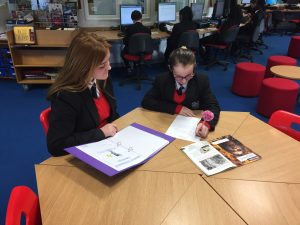 Year ten student Literacy Ambassadors would like to welcome you to Acklam Grange School's new website www.agsliteracy.com. The website is dedicated to supporting students in the development of excellent standards of literacy both when in school and at home.
As student Literacy Ambassadors we understand the importance of presenting high standards of literacy in both our written work and the way we communicate with others. We will be using the website to support us in our role as Literacy Ambassadors in school.
What is the role of a Literacy Ambassador?
The role of a Literacy Ambassador is to  provide  peer to peer support to help promote the importance of literacy in school; to encourage reading for pleasure and to increase the confidence of younger students.
What does the role of a Literacy Ambassador involve?
Each literacy mentor has a designated mentee from year 7 and they meet once a week during period six independent study time. During each peer support session the Literacy Ambassador will work one to one with their mentee to help them develop their literacy skills. They may complete the following activities:
Supporting the year  seven student in completing their Enhance tasks.
Supporting the students in improving their vocabulary and sentence structures.
Paired reading.
Supporting the year seven student in completing an Accelerated Reading quiz.
A few words from our current ambassadors.
"I have enjoyed developing as a leader. The responsibility required by the role of a Literacy Ambassador has made me more confident and I am proud of the support I have given my mentee."
Qasim Hussain-Year 10
"Watching the year sevens flourish has both given me confidence in my abilities and has made me aware of the importance of literacy in every day life."
Josh Smith-Year 10
"All the time and effort put in to becoming a Literacy Ambassador is worth it. The experience of helping and encouraging our younger students to develop their literacy skills is highly rewarding, both for yourself  and the students that you support. I am very proud of the things my mentee has achieved."
Jack Pittam-Year 10